For the second consecutive year, FORTE CLOUD is proud to announce that it was named as AWS SAP Partner in the Middle East and North Africa (MENA) for its exceptional performance and commitment to AWS customers.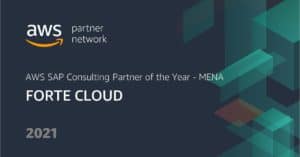 Each year, the AWS Partner Awards recognize members of the AWS Partner Network (APN) who are leaders in the channel and play a key role in helping customers to drive innovation and build solutions on AWS.
Since 2017, FORTE CLOUD has been a valued AWS Partner in the MENA region and has strived each year to improve customers' experiences on AWS. Its efforts were recognized in 2020 when the company became the first local AWS Partner to achieve the AWS SAP Competency designation in the MENA region, as well as when we were named AWS SAP Partner of the Year 2021.
We are grateful to AWS for being named then and are even more so now that we were named this year as well. We are excited to continue working together with AWS to provide our customers with a unique AWS Migration Acceleration Program (MAP) to move their SAP systems to the public cloud. Since 2017, we have helped many organizations from various industries effectively migrate, launch, and manage SAP workloads on AWS. We currently boost a track record of 20+ successful enterprise's migration for SAP on AWS validating our capabilities as an experienced and trusted AWS Partner." said Abdelrahman Elposhi, CEO of FORTE CLOUD
Recent success stories include the work with Juhayna Food Industries who chose FORTE CLOUD and AWS to migrate and easily upgrade its SAP systems to AWS that led to cost savings of $200,000 a year. FORTE CLOUD has also helped Hyperone to reduce the cost of running SAP by 40% while also gaining business insight 78% faster after upgrading their SAP systems to AWS.
As an AWS Partner and the winner of the AWS SAP Partner of the Year in MENA in 2020 and 2021, FORTE CLOUD is dedicated to helping enterprises in the MENA region achieve their digital transformation goals by leveraging the agility, breadth of services, security, and pace of innovation that AWS provides.
About FORTE CLOUD:
FORTE CLOUD is one of the few "born in the cloud" partners that are providing a complete cloud services and cloud management portfolio that will give enterprise customers fast, flexible access to the cloud. FORTE CLOUD is a leading cloud services provider and systems integrator that has been delivering state-of-the-art technology solutions to clients in Egypt and the MENA region. It designs, builds, migrates, manages, supports, and protects business-critical applications including SAP, Oracle, and Microsoft workloads in the cloud.